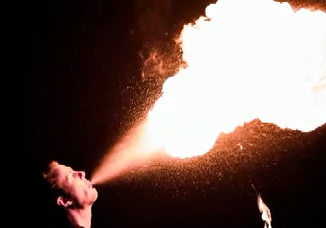 "Fire Breather" – Toyota of Plano
Finally, the #1 most interesting spot of 2014. The only criteria presented to our editing judges was to select production that stood out to them for a specific reason and then explain why.
TV COMMERCIAL #1 TOYOTA OF PLANO
Plano, TX
"Fire Breather"
Editor's Comments:
There isn't an editor worth the title who doesn't love to play with fire – therefore, this qualifies as a dream spot. It also is right up there for attention-getting visual devices because who doesn't love that flame-blower whether it's a circus or magic show. It's all about excitement and promoting a dealer event as the biggest and best, or in the vernacular at the end of a sweltering summer – the hottest! And although we hired a professional fire-breather, the tools of our edit suite added flames wherever we could to insure a smokin' hot sale!
Commercial: TOP081402T
John Paul Strong
John Paul Strong combines his two decades of automotive marketing experience with a team of more than 140 professionals as owner and CEO of Strong Automotive.
Stay in the fast lane
Get industry updates delivered
to your inbox