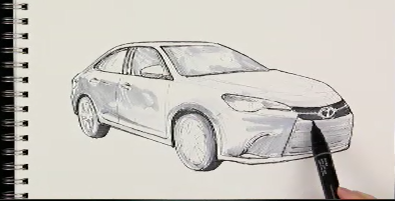 Counting down the last 3 of the 10 most interesting spots of 2014. The only criteria presented to our editing judges was to select production that stood out to them for a specific reason and then explain why.
TV COMMERCIAL #4
LIMBAUGH TOYOTA
Birmingham, AL
"Camry Sketch"
Editor's Comments:
It is difficult even being in the automotive marketing business to keep up with the new models arriving all throughout the year. Between Toyota national ads and social media, the 2015 Camry was rolling into dealerships with a great deal of fanfare. Our challenge was a unique way to show Camry had made the journey fom drawing board to the showroom, so our choice was time-lapse animation dissolving to reality. And of course, an attractive offer. The new Camry started as a "line" and we presented it that way, along with a great bottom line. The commercial and the new Camry were both well received.
Commercial: LBT111403TH
John Paul Strong
John Paul Strong combines his two decades of automotive marketing experience with a team of more than 140 professionals as owner and CEO of Strong Automotive.
Stay in the fast lane
Get industry updates delivered
to your inbox