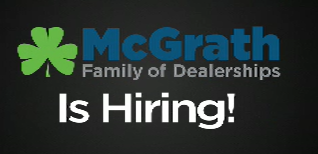 MAG121406T1H-Strong MOV NoSlate
We're closing in on our countdown of the 10 most interesting spots of 2014. The only criteria presented to our editing judges was to select production that stood out to them for a specific reason and then explain why.
TV COMMERCIAL #2 McGRATH AUTO GROUP
Cedar Rapids, IA
"Employment"
Editor's Comments:
When the request came for a Help Wanted spot, the response was, "Business must be good". With its stylized presentation of opportunities and benefits, as well as relating the history and size of the auto group, you have to believe this commercial is a branding-positive. The character of audio delivery is also an affirmation to the viewer that this is a first-class company, which it is. Our writers commented that most Help Wanted ads we create are placed in trade magazines or on job-hunting websites. It will be interesting to see the response in terms of applicants as well as comments from the ad.
Commercial: MAG121406T1H
John Paul Strong
John Paul Strong combines his two decades of automotive marketing experience with a team of more than 140 professionals as owner and CEO of Strong Automotive.
Stay in the fast lane
Get industry updates delivered
to your inbox