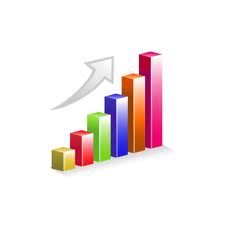 MIGHT MAKE RUN AT ALL-TIME RECORD
Automotive financing is on the rise with loans becoming more accessible, and that may be part of the reason why sales are expected to be even better next year than they are this year.
An average of 13 analysts surveyed by Bloomberg News says that sales of new cars and trucks will rise to 16.1 million vehicles, about a half-million more than this year's projected total, and close to the 2007 total of 16.15 million. That's still quite a bit short of the record set in 2000 of 17.4 million, but Automotive News says the debate in the industry is now about whether that mark might possibly be broken soon.
At 16.1 million vehicles, 2014 would be the fifth straight year on increases–the last time the market grew for five years in a row was 1996-2000. The annualized rate reached 16 million last month for the first time since 2007, but Auto News notes when that number was reached six years ago, "Detroit was losing billions, saddled with high costs and poor cars."
"It's not just the number 16 that's amazing," the chief economist for IHS Automotive said. "It's the fact that it's coming effortlessly. We're not dumping cars and trucks into the fleets. We're not using humongous incentives to move them. It's a reflection of people's willingness to buy and the strength of the product out there."
The manufacturers are becoming bullish about the growing demand and are preparing for it – an analysis done by Morgan Stanley found that in the five years through 2015, automakers will have added production capacity to build an additional 3.5 million vehicles annually.
And the three major domestic manufacturers seem to be gaining a disproportionate share of the improving business. "It would be one thing if the domestics were going to get better in cars and pull back on trucks, but they aren't," an analyst for R.L. Polk said. "You see a rising level of competitiveness for the domestics across the whole industry, which is forcing the Asians to be more aggressive just to maintain where they are."
The current rebound and the expected additional growth for next year should continue into 2015 and beyond based on some of the data that exists. The latest count from Polk finds that a total of 375 new models will be introduced by manufacturers between now and 2015, and they will be brought into a market with an enormous number of old vehicles that will need replacement. With the average age of vehicles on the road now about 11.5 years and historical data that shows "scrappage" rates become much higher when vehicles reach 13 years, the time to replace vehicles sold in the good years of 1999-2006 is upon us.
ATTRACTIVE TERMS DRAW BUYERS
More than ever before, new car buyers are relying on financing. Experian Automotive reports that a record 84.5% of consumers who acquired a new vehicle in the second quarter obtained either a loan or a lease to fund the purchase. According to the latest State of the Automotive Finance Market report, new vehicle financing is at the highest level since tracking began in 2006. This metric is up from 82.5% in the second quarter of 2012 and from 79.7% prior to the recession in the second quarter of 2008.
"Loans have become more accessible in recent years, and we've seen a steady growth in the percentage of consumers financing their vehicles," said Melinda Zabritski, senior director of automotive credit for Experian Automotive. That's obviously good news for the auto industry, but she notes that it is also good for consumers, who are more confident in the ability to take on more debt and pay it off in a timely manner. Experian has also found a reduction in auto loan delinquencies to be a trend.
Of all new vehicles financed, leases accounted for an all-time high of 27.64% during the second quarter, up from 24.4% a year earlier. The average lease payment was $408 over a term of 35 months, with an average credit score of 760. The average loan payment was $457 over 65 months, with an average credit score of 749.
Nonprime, subprime and deep-subprime new vehicle loans increased to a 27.45% market share in the second quarter, up from 25.41% a year earlier. For used vehicles, nonprime, subprime and deep-subprime loans accounted for 57.31% vs. 56.46% a year earlier.
John Paul Strong
John Paul Strong combines his two decades of automotive marketing experience with a team of more than 140 professionals as owner and CEO of Strong Automotive Merchandising.
Stay in the fast lane
Get industry updates delivered
to your inbox