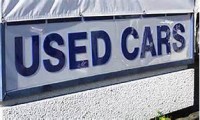 One thing that a lot of people tend to forget is the type and quality of buyers that are brought out during February to a car lot. The majority of dealerships during this month will see a greater percentage of lower funnel/lower credit buyers due to the issuance of tax refund checks.
While on a conference call the other day in preparation for a large scale used car sales event we spent a lot of time discussing what types of vehicles should be placed on the front line. Remember your front line of cars are what people will see first when they enter your dealership but they are also what the "drive by" traffic is going to see the most of as well.
Don't settle or be complacent by having the same "new cars" placed on the front line, especially during a month like February. Bring your cash cars, under $10K cars and any low price or exotic pre-owned vehicles that you have to the front. This gives your used cars maximum visibility for drive-by traffic and the buyers with tax refund checks burning holes in their pockets.
John Paul Strong
John Paul Strong combines his two decades of automotive marketing experience with a team of more than 140 professionals as owner and CEO of Strong Automotive.
Stay in the fast lane
Get industry updates delivered
to your inbox