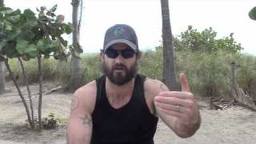 This is a great message for automotive dealers and general managers to play in Friday and Saturday morning meetings:
We must have the courage to be the best we can be every day of our life; in business and in our personal life. The same goes for our staff. I LOVE this clip of eight missions to better self esteem and self confidence by one of our Navy SEALs.
8 Rules of Self Esteem and Self Confidence:
1.) Have a Positive Attitude – We have a choice to be negative or positive EVERY DAY.
2.) P.T. and Being Healthy – Respect your mind, body, soul, and heart.
3.) Motivate Yourself and Others – We must be excited about life EVERY DAY and excite others.
4.) Earn Respect – We don't deserve respect, we earn it through our actions!
5.) Set Goals for Yourself – Do it EVERY DAY! We must have a definitive direction in our business and hold ourselves accountable.
6.) Integrity – Every one of us understands right and wrong. This governs our actions and allows us to live with honor.
7.) Mentoring – Find a mentor and mentor others. We don't know everything! Learn, push, and extend ourselves.
8.) Have FUN! – Laugh every day. If we are not having fun we are wrong!
These are incredible messages we must first believe in and live before we can ask our staff to do the same.
John Paul Strong
John Paul Strong combines his two decades of automotive marketing experience with a team of more than 140 professionals as owner and CEO of Strong Automotive Merchandising.
Stay in the fast lane
Get industry updates delivered
to your inbox