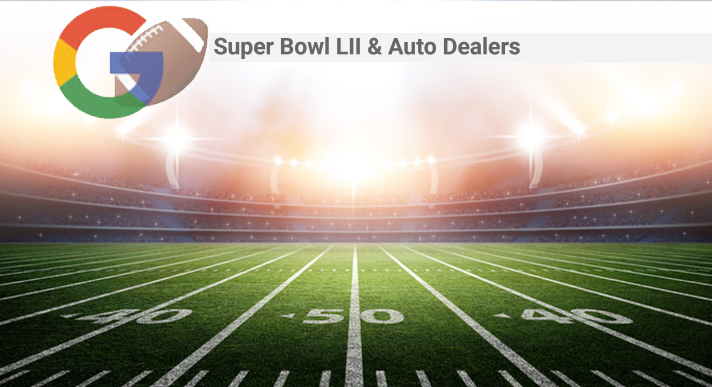 It shouldn't come as a surprise that the Super Bowl is usually one of the most watched televised events of the year. What may surprise you, however, is that you can cash in on the exposure from this event without paying millions of dollars to run an ad during the game.
Super Bowl LII & Auto Dealers
Google recently shared some insights with Strong Automotive Merchandising on the increase in online searches that occur during Super Bowl weekend along with other pertinent data related to the automotive industry. The numbers are astounding:
"The Super Bowl provides a perfect opportunity to fish where the fish are, but with dynamite. There is no greater opportunity to capitalize on the ZMOT than during Super Bowl ads. Right after the ads show, people will be searching for the products and we help make sure our clients will be there. The numbers speak for themselves." -Gayle Rogers, Digital Director and CMO
It all adds up to the biggest mobile weekend of the year to date for advertisers – especially in the automotive sector. Based on last year's numbers provided by Google, we're expecting the surge in online searches to eclipse the record numbers from 2017.
Super Bowl Opportunity for Car Dealers
Strong is positioning our digital clients to take advantage of this spike in search activity which will help generate more bottom line traffic. Timing is everything, but if you aren't "in the game" then you won't be able to capitalize on this opportunity.
John Paul Strong
John Paul Strong combines his two decades of automotive marketing experience with a team of more than 140 professionals as owner and CEO of Strong Automotive Merchandising.
Stay in the fast lane
Get industry updates delivered
to your inbox