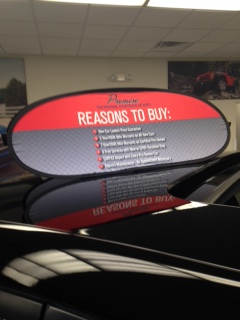 I took a picture of an inexpensive car topper at a Chrysler Jeep Dodge Ram dealership that was on every car in their showroom. It definitely enforced the effect of "why you should do business with us!"
Now this is a very simple thing, but it can set apart this dealer and their process from all the others. Remember customers still feel uneasy when they enter a dealer's showroom to buy a car. It's important to make them feel at ease with added values of why to do business at that store.
I have always said, "Use the message of your advertising to get them to your store and then once the customer is there tell them how great you are."
John Paul Strong
John Paul Strong combines his two decades of automotive marketing experience with a team of more than 140 professionals as owner and CEO of Strong Automotive Merchandising.
Stay in the fast lane
Get industry updates delivered
to your inbox