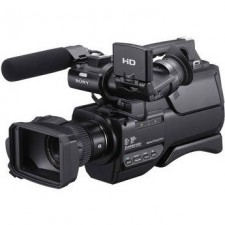 Strong had the pleasure of recently hosting Jeremy Hodge, owner of Toyota of Ardmore, and younger brother Jay, owner of James Hodge Motor Company in Paris, TX. They came to shoot at Midtown Studio here in our office complex and these young men got the job done at a record clip. They both recorded a full year of merchandising and event spots including broadcast for Internet —- 52 total spots in 6 hours of taping!
As with any project of this nature, pre-production planning set the stage for success. Weeks prior to taping, Jeremy and Jay had a full list of themes, hooks and special sale events for their dealership with their on-camera lines to review. The material covered February of this year through January 2015. The fact that they had made themselves familiar with the copy lines (and that both have a great style in front of the camera) made for great takes every time.
Throughout the course of a year, Strong shoots an average of two to three days a month either with dealers or talent selected by the dealers. Our air-conditioned studio exceeds specs for audio insulation, is lit with cool-temp Kino lights, and with a full-length green screen the result is an excellent broadcast presentation.
But 52 spots in 6 hours? As you would say at your dealerships, that was a new record for volume and the net — an outstanding broadcast product!
John Paul Strong
John Paul Strong combines his two decades of automotive marketing experience with a team of more than 140 professionals as owner and CEO of Strong Automotive Merchandising.
Stay in the fast lane
Get industry updates delivered
to your inbox