Your Honda Digital Solutions Provider
As a Honda Certified Partner, Strong Automotive Merchandising is ready to accelerate your dealership marketing, and we have a plan that works for your specific goals through Honda Digital Solutions. Each dealership needs a marketing plan to reach potential customers in their community, and HDS makes their mission possible through dynamic, cost-effective services.
If your ideal approach focuses on eye-catching web graphics, then we can provide you with a package that includes features like Homepage Graphics and SRP Banners. If Web Video is what you need, we can provide you with customized video of the model or feature of your choice, with closed captioning included as well as endless usage rights. For all of our packages, dealer branding is included, as is Cloud storage file delivery, OEM approval, and a turn-around time of up to 72 hours pending compliance approval.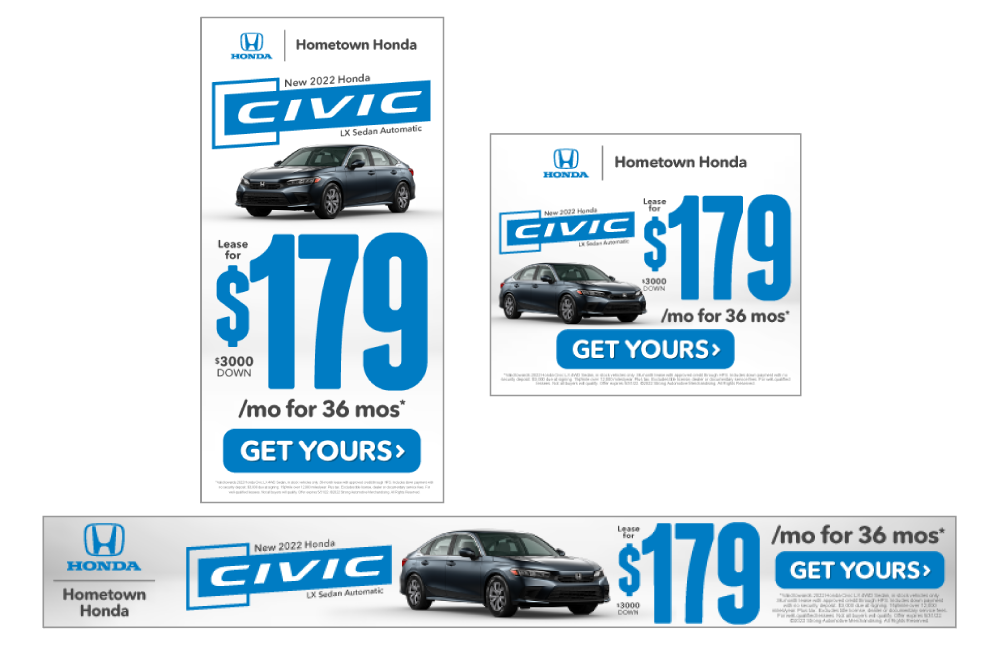 Services to Meet Your Automotive Marketing Needs
Like the various trim levels offered throughout the Honda lineup, there are several distinct dealer merchandising packages available to suit a wide range of needs and goals:
LX Web Graphics

Homepage Graphics: Lead the reader to two of your offers with eye-catching imagery.
SRP Banners: These Search Results Page banners enhance your inventory pages with two offers that are relevant to the models that your visitors are searching for.

Sport Web Videos

Web Video: We can provide a fully produced web video customized with your dealership logo to cover your core products and drive traffic to your site.
Closed Captioning Included: Accurate captioning ensures your message is accessible to anyone.
Endless Usage Rights: Once you've received your video files, they're yours to utilize as needed for as long as you want.

Touring Web Graphics

Homepage Graphics: In this top-level package, we'll include four visually appealing offers to appear before your visitors when they arrive at your homepage.
SRP Banners: Visitors to your inventory pages will see four search-relevant offers.
To customize your package, you can also opt for various add-ons like eBlasts, additional banners, HD-TV spots, social media graphics, and more.
Contact Us to Learn More
When you're ready to enroll, visit the Honda Interactive Network (iN) portal to get started. You can also contact us at HDS@StrongAutomotive.com if you have any questions about the enrollment process or our automotive marketing services. At Strong Automotive Merchandising, we have the tools and expertise to drive traffic to your Honda dealership.