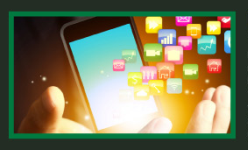 If you find the title of this newsletter somewhat mysterious, the parallel is to recall the first time you heard acronyms like SEO, SERP and PPC. "Mobilegeddon" is what IT insiders are using to describe the most recent Google algorithm change that began on April 21st with regard to websites and a new mobile-friendly ranking.
Our goal is to sort out what this means to your website in the simplest of terms, because in the end your site will need to make changes to accommodate Google's directive for ranking recognition as friendly for the mobile-device user ahead of traditional desktop.
The FACTS:
Your Web provider had a heads up: Google is notorious for doing these updates and NOT informing anyone. However, this time they gave your website provider about 60 days' notice. This should have given your provider a head start to make adjustments.
Mobile devices are the only devices affected: Desktops will not feel any effects of this algorithm update.
These changes can be problematic: With the reliance on mobile traffic (45% of automotive shoppers use mobile), this is an important update to pay attention to. Unlike desktop experience, mobile has limited top positions, so it's important that adjustments are made and monitored to ensure that content is "good" enough to keep that top position, as it garners 20—30% of the clicks; after that, it tails off drastically.
Updates can still be made: Just because the latest G-day came and went, all isn't lost. Adjustments can still be made and should be made. Contact your provider to make sure they are on it!
Not mobile friendly? You've got issues: If you have a mobile "unfriendly" site and do not have responsive content, you could pay the price. Google could lower the rank of your pages, as they are after a similar user experience – whether it's desktop or mobile.
Here at Strong, we are happy to report that ALL of our clients have a mobile-friendly website. Even more critical: If we are building content for them, it's responsive and ready for prime time.
Is your website and managed service provider ahead of this latest Google curve? This question needs to be answered and the sooner the better. If you have questions, contact Scott Rossi, VP of Digital Services: srossi@strongautomotive.com.
Mobilegeddon? Time will measure the real impact, but that's why they say "time is money." Don't delay on getting answers for your satisfaction and possibly, your survival.
John Paul Strong
John Paul Strong combines his two decades of automotive marketing experience with a team of more than 140 professionals as owner and CEO of Strong Automotive.
Stay in the fast lane
Get industry updates delivered
to your inbox