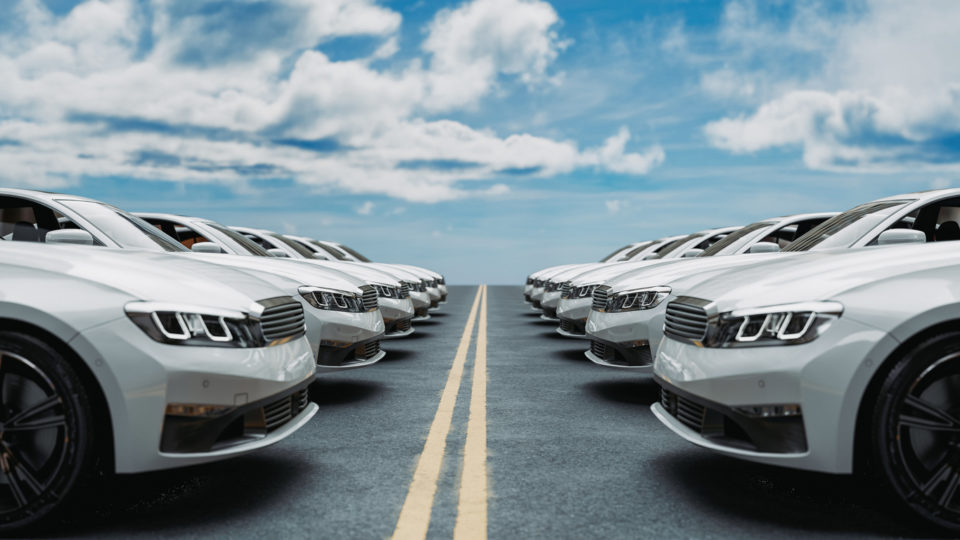 The 2024 Honda Accord is bringing sexy back with a handsome exterior design it wears with edgy swagger and boldness. This new design rolled off the assembly line for the 2023 model year, announcing the four-door, family sedan's eleventh generation. But is it still a family sedan? Do families even consider sedans anymore? For certain, Honda's reliable Old Faithful is still a popular vehicle. In fact, the 2023 model landed on Car and Driver's list of 25 best-selling cars released earlier this month, and thus far, it has sold upwards of 152,000 units. So, clearly, somebody's buying it. But who?
Well, according to The Wall Street Journal, it's not families, but rather, "younger buyers less in thrall to the SUV worship of their parents." This is exactly why the remodeled sedan shrugged off its middle-manager button-down and khakis. Now, it's a good guy dressed in a leather jacket and combat boots with a price tag that's easy on the pockets, fuel efficiency that's hard to pass up, and a techy cockpit perfect for the generations dubbed digital pioneers and natives. With these changes, Honda repositions the Accord in hopes of appealing to younger shoppers more likely to see a sedan as a viable option. Based on the 38% increase in sales between 2022 and 2023, we'd say they've been successful.  
Pivoting to Meet the Market
Walk through your local supermarket, and you're almost guaranteed to see a product with the message, "New Look, Same Great…" If you find yourself frowning at the packaging, you're probably not the product's target demographic anymore. The company has pivoted its marketing to appeal to a new set of buyers. Knowing when to pivot is a skill that requires keeping your ear to the ground, tracking market trends, and monitoring buyer habits. Something the marketing team at Honda has clearly mastered and the team at Strong Automotive excels at.
The Sedan's Old Demographic
According to the Pew Research Center, 30 years ago, it wasn't uncommon to see a couple under 30 with a brood of three-plus children. In 2023, however, the average American woman doesn't have her first child before celebrating her 30th birthday. Consider the fact that most drivers hop behind the wheel for the first time between the ages of 16 and 18. That means American drivers will be on the road for 12 to 14 years before any of these phrases become marginally enticing: "enough cargo space for strollers, groceries, and more," "room for bigger family trips," "innovative 2nd-row stowaway seating expands to allow seating for eight." This phrase is straight from the press release at a time when Honda still sought to draw in car shoppers looking for a family sedan:
The Honda Accord Crosstour combines the sophisticated refinement of a premium sedan with versatile aspects from an SUV to create an entirely distinct concept within the Crossover Utility Vehicle (CUV) segment. Leveraging the many benefits of a car-based design, the Accord Crosstour starts with the top-level refinement of the Accord V-6 Sedan and further expands utility with a sleek-yet-functional profile for increased cargo space.
But the time when these were the main focuses of sedan buyers has passed.
The New Customer Base
The SUV craze has driven many automakers to slim down the number of sedans in their lineup. But the sedan isn't a dead segment, and Honda knows that. The brand has slowly altered the language, style, features, and, more importantly, the keywords in its sedan marketing to appeal to the young drivers still in the market. Marketing for the 2024 Honda Accord doesn't prioritize cargo space. Instead, it promises to deliver both thrill and serenity with a 204-horsepower hybrid powertrain that zips off the line with instant torque. It touts the "bold, graceful profile," body-stabilizing seats, and available Google built-in. Its keyword-rich content includes phrases like "ECON mode for optimal efficiency," a boon for younger drivers with smaller transportation budgets.
Marketing Sedans with the Right Keywords
Moving sedans – or any body style, for that matter – off the lot of your dealership takes the right marketing to draw in the demographic of buyers your brand appeals to. For the right content, right keywords, and right messaging, contact the Strong Automotive digital team today.
John Paul Strong
John Paul Strong combines his two decades of automotive marketing experience with a team of more than 140 professionals as owner and CEO of Strong Automotive.
Stay in the fast lane
Get industry updates delivered
to your inbox