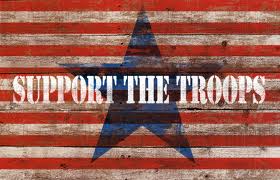 I recently returned from visiting a dealership whose market includes a major military installation. This owner makes it a priority that everyone from the most senior officer to the newest recruit knows they are both welcome and appreciated. Whether it's sales, service, or sponsoring a promotion directed solely to benefit the area's military, the message was clear: We value your business. The bottom line is that this dealership's effort has been rewarded time and again.
This multi-part blog is going to focus on the benefit of a military appreciation program that I believe exists for almost every market nationwide with statistics to prove it works. Active U.S. military troops stateside number 1,123,000 with another 850,000 in the reserves. There are 21.5 million veterans across America with 12.3 million under the age of 65. The annual median income of these veterans is $35,800 versus $25,800 for the general population according to the most recent figures. Here is a website that breaks down the number of military personnel state-by-state:
http://usmilitary.about.com/od/theorderlyroom/l/blstatefacts.htm
When you consider that military personnel receive a regular monthly check, often bolstered by well-deserved hazardous duty and combat pay, it is definitely worthwhile to have and publicize an appreciation program at your dealership. As you will read in Part II, getting this message out is not a traditional media situation.
John Paul Strong
John Paul Strong combines his two decades of automotive marketing experience with a team of more than 140 professionals as owner and CEO of Strong Automotive.
Stay in the fast lane
Get industry updates delivered
to your inbox