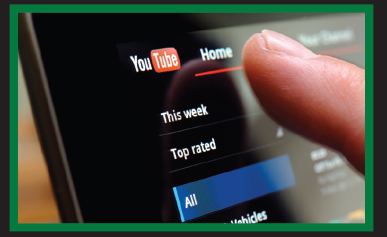 First, a few facts about video traffic online:
Your customers are already on YouTube and Strong is equipped to get your message in front of them.
How Do YouTube Ads Work?
YouTube has four different formats for its video ads. Strong focuses on the last two types of video ads, as they have the best chance to convert to views and traffic.
Display Ads – These are traditional display ads that a customer might see to the right of the featured video or at the top of their YouTube search results page. These ads drive a customer to view your video on YouTube or visit your website.
Overlay Ads – These ads are the small boxes that show on top of the video you are viewing on YouTube. These are also display ads run with a static graphic.
Skippable Video Ads – These ads are the videos that usually run before the video you have selected has played. These are usually video spots that are longer than 15 seconds. The customer can hit "Skip Ad" to avoid viewing your entire ad. These are often referred to "pre-roll ads" as they are mostly shown before the featured video.
Non-Skippable Video Ads – Video ads that are 15 seconds or longer can be run as non-skippable ads.
How YouTube Ads Are Billed
YouTube does not charge you if your potential customer does not completely view your video. This means that you have five seconds of free branding before the customer has the option to skip your ad. Strong usually sees an impression rate up to 10 times higher than the actual view rate, so you could be receiving 1,000 branding opportunities for every 100 you pay for on YouTube.
If the customer views the entirety of your spot, you will be billed by YouTube. The good news is that the market is not as competitive as Google Search ads are. We see a cost per view of around $0.10 – $0.15 right now. That means you can get your message to 1,000 potential customers for a much lower rate than on cable or search results pages.
YouTube Ads Tips
YouTube ads work best for branding purposes, so it's important to get your brand mentioned in the first five seconds of the spot you choose to run on YouTube.
Your traditional production spots can easily be run as YouTube ads. If you are currently running broadcast or cable spots, we can transfer those to your YouTube account and have them running online instantly.
We can also produce online-only spots that provide a clear call to action to visit your website. These spots tell the customer what steps to take after they view your video.
I always believe that you should advertise where your customers are, and that is increasingly online. YouTube ads are a relatively inexpensive way to get in front of your customers in a less crowded marketplace. Strong's digital and production teams will work together to make a video ad campaign that is targeted, measurable and successful.
John Paul Strong
John Paul Strong combines his two decades of automotive marketing experience with a team of more than 140 professionals as owner and CEO of Strong Automotive Merchandising.
Stay in the fast lane
Get industry updates delivered
to your inbox