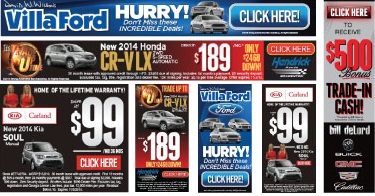 When automotive marketing began as an online entity there was much debate on what price should be displayed to digital shoppers. The answer today? Everything. There should be no more hidden fees or prices because they're already out there, and more available and searched than ever.
Here's a fact about general online research: Google's unique visitors in October reached 1.1 billion. If just one percent were inquiring on car-buying questions, that's a million answers. One of the answers that they are seeking is price.
I am a firm believer that price sells cars. If you are not making it perfectly clear that your dealership is transparent and true to the position that price will not keep you from doing business with any shopper, get used to the dog-sled view that comes with not being the lead runner.
The factory is very much aware of your status when it comes to Units in Operation (UIO). Your willingness to embrace its position on moving product puts the price picture in sharper focus. Your price presentation to the shoppers – both in traditional and digital – at least gives you a shot, and at best may deliver you a customer down the road even if you hooked them at minimal gross.
The latest trend that I have seen formed an extreme focus on the core product price presentation in vehicle retargeting banners.
The above banner examples show how to feature an offer on a core product that will follow a customer around while they shop online and present your best products at your best prices.
I'm not interested in giving away our secret formula in this newsletter, but in some cases we have seen more than triple the click-through rates on ads showing price versus ads that show no price.
Price is nothing new to the Internet arena. These numbers and trends led us to decide that price-focused retargeting ads generate more opportunities for our dealers to create leads. It continues to show the amount of online shoppers who are looking for answers. Most importantly, it has a greater appeal to the masses than an image-based ad with no price. In closing, the dictionary will show you one definition for content as meaning "reasonably happy and satisfied with the way things are." While that may apply for some businesses, it never applies to automotive!
John Paul Strong
John Paul Strong combines his two decades of automotive marketing experience with a team of more than 140 professionals as owner and CEO of Strong Automotive Merchandising.
Stay in the fast lane
Get industry updates delivered
to your inbox