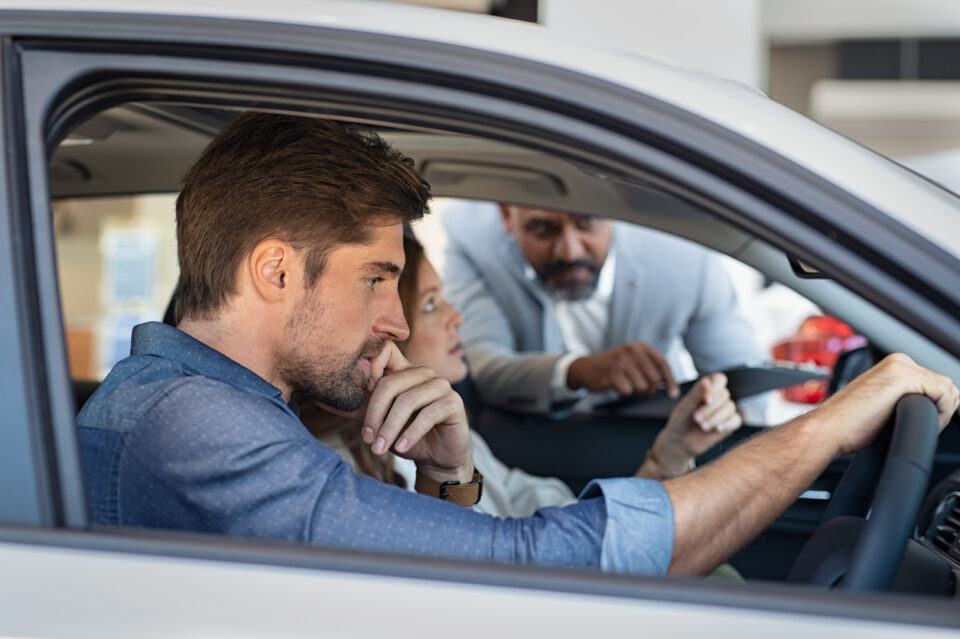 A good car should promise years of enjoyment and reliable performance, so buying one is a major investment. With so much to consider, from model choices to finances, many drivers choose to put off buying their next car for a variety of reasons. Let's take a look at the most common reasons why buyers wait, and explore solutions to help them take action.
No Car Payment
In many cases, the fact that there's already a car in the driveway keeps drivers from seeking out anything new. If someone already owns their car outright, they might not be in any rush to take on a new car payment. It requires some planning ahead to make room for that new monthly rate, and not everyone is willing to adjust their budget for an additional expense. They'll need to be assured that any new car payment they take on with a purchase won't break the bank.
Low Trade-In Value
That existing vehicle can cause more than one buyer reservation. If a potential customer believes that the car they drive now wouldn't garner much extra buying power, they might not be inclined to part with their old investment. Including a Value Your Trade tool on your dealership website can help shoppers get a better picture of what their current model could do for them.
Concerns About Inventory
From pandemic-related production delays to the recent semiconductor shortage, it's likely that your potential customers have heard discouraging news about new car inventory. Even as dealerships continue to wait for new models to come in, you can still play on your current strengths by promoting your existing inventory. Run deals on outgoing 2020 models and your pre-owned selection, and prepare to highlight all the benefits of high-value used and certified pre-owned options.
Credit Concerns
A rough or brief credit history could lead customers to believe that they don't have the financial footing necessary to secure an auto loan. This is an opportunity for your financing team to shine. By connecting your customer with a special financing plan, you can help them purchase the vehicle they need while setting them up to mend their credit score.
Building Savings
Purchasing a car is a major expense, and it can take a while to set those funds aside. Even if their credit is in great shape, saving up for a down payment and budgeting for monthly payments, insurance, and all the other associated expenses can seem daunting. Make your target audience aware of any no-down-payment opportunities you offer. Remember to make it clear to shoppers how their down payment could impact their monthly payment rate.
Trust Issues
Some drivers assume that anyone trying to sell them on a major purchase might not have their best interest at heart. Maybe they've been taken for a ride in the past, or maybe they've just heard stories about an offer that was too good to be true. Whatever the case may be, it's up to you and your team to set your potential buyer's mind at ease so that they can shop with confidence. Honesty and dedication to customer service are invaluable tools of the trade.
Seasonal Competition
Depending on your region, you might notice seasonal highs and lows within your market. The weather can influence when drivers want to start shopping, and seasonal changes like icy conditions in the winter might keep shoppers at home until spring. Other markets might see a rise in activity once vacations end, the kids are back in school, and things have settled down for the fall.
Anticipating New Models
Drivers know that manufacturers produce new versions of their models each year, typically with updates or refreshed designs. These new models often arrive on lots starting as early as late summer or fall, although this year's production delays will likely throw off that established rhythm. If you hear from a potential customer who is holding out for an upcoming redesign or new arrival, remind them that you'll have to make room on your lot and will be willing to help them find a deal within your current selection.
Assumed Difficulty
From choosing the right model and features to navigating the financing process, drivers can be daunted by the car-buying process if they're unfamiliar with it. It's up to your dealership to help them at every crucial step by working with their specific needs and budget. Show your target audience how easy the car shopping process can be by promoting your online tools and services. If you offer any conveniences like vehicle delivery or at-home test drives, make sure that drivers in your market are aware of them.
Waiting for a Deal
If shoppers aren't in a rush to buy a new car right away, they might sit back until they know they can get a deal. This could mean waiting for the model they want to go down in price over time, while others might be waiting for the holiday discounts that usually start around November. Promoting the deals you have now can garner the attention of shoppers who prioritize savings.
When you have a message to share with your audience, Strong Automotive Merchandising has the tools and experience necessary to make that message effective and clear. The seasoned buyers in our Media team can utilize proven strategies to make sure your ads reach the right eyes and ears throughout your market. Contact us to learn more about how we can use display, video, and other resources to increase your traffic.
John Paul Strong
John Paul Strong combines his two decades of automotive marketing experience with a team of more than 140 professionals as owner and CEO of Strong Automotive.
Stay in the fast lane
Get industry updates delivered
to your inbox