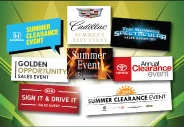 To say you learn something new every day is an understatement. The fact is, you need to learn something new, and when you challenge yourself to accept this fact I believe you will be surprised.
For me, the surprise came during preparation for a meeting with our Direct Contact team. As I reviewed recent e-blast layout designs I saw we had gotten off course. This is why I encourage you as a dealer to review with your team the potential for opportunities during the factory clearances.
It's critical to evaluate what makes clearance appealing to your market – from incentives to inventory to timing of broadcast to Internet presentation to, yes, even e-blasts. Clearance events have replaced the excitement and anticipation of the traditional arrival of new models from years ago. (Remember when dealers covered showroom windows with paper to build up anticipation?) Many manufacturers are now in their third year of running the same theme. The market knows what time it is, and your monthly sales reports for past Augusts should reflect this buying surge.
Rev August up!
One look at the calendar will reveal something never before seen, as this August is the first month this year with five Fridays, five Saturdays and five Sundays leading right into Labor Day. The emphasis from compliance on how and when you can use "clearance" makes now a green light call to action that only happens once a year. Here is my bases-covered checklist of considerations to make August awesome:
• Tie into national themes, not verbatim necessarily, but with "clearance" in the forefront
• Confirm media in place with regard to back-to-school, five weekends and Labor Day
• Wrap e-blast mailings around Aug. 1st, Aug. 15th, and Aug. 30th paydays–ALL Fridays
• Evaluate all incentives and apply them to specific merchandising, giving prices max appeal
• Internet inventory presentation can now reflect math tables for "Was," "Now" and "Clearance Price"
• Adjust pre-owned marketing to reflect dealership clearance pricing
• Create a website button for Just Arrived Clearance Trade-Ins, and update daily
Communicate to your salespeople that this August is the equivalent of the fourth down in the final quarter of selling season.
• Make it a point to: Demand that managers keep salespeople up to speed on clearance offers
• Remember to: Train salespeople on up-sell because of clearance savings–Civic to Accord, for example
• It's important to: Insist that inventory is standing tall, with your best sellers front and center
Do everything right to ensure August is awesome–review and rev it up!
John Paul Strong
John Paul Strong combines his two decades of automotive marketing experience with a team of more than 140 professionals as owner and CEO of Strong Automotive.
Stay in the fast lane
Get industry updates delivered
to your inbox