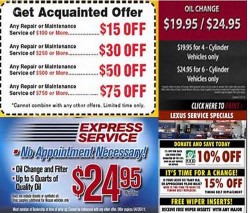 Last week I spent some time reviewing the service coupon ads from the direct mail pieces our company was producing and decided to call everybody into my office for an impromptu meeting.
I taped 10 different sets of service coupons from different clients to the wall in my office. The reason was to remind everyone that the key to driving more service traffic was to "market what the public needs for their car."
Oil Changes
The shining star of any service department is an oil change. Whether your car says change the oil every 3,000 miles or 6,000 miles, oil is the most popular and common thing that people need to have done to their car. It should always be present and in the lead in terms of how offers are presented in a piece of direct mail marketing to the public.
Tires, Brakes and Batteries
The general public does not think of a franchise dealership as the place to get the best value on a set of tires. With tire superstores and every retailer from Walmart to Costco – tire sales have grown increasingly competitive. Every dealership needs to be promoting the sale of tires to their customers. Because of increased manufacturer retention programs your service customers will be coming back at a higher percentage than they had before and this is an area you can't ignore.
Brakes and batteries also need to be promoted to your customer body. They are a maintenance necessity. If customers don't come to you, they will go elsewhere.
I spotted one coupon on the wall and decided to use it as a closing statement to remind everyone of the basics of the best service offers. I asked everybody in the room, "Who can tell me how much a new pair of wiper blades cost?" Only one person in a room of ten stood up to answer and said, "They are so expensive. I just had a set of good ones put on my car and I was shocked at what they cost."
There were only two dealers that were advertising $5 off a new set of wiper blades out of the 10 pages of coupons. They were promoting a product without naming the exact price on something the general public might not understand the value of anyway.
Stick to the basics and focus on what the public is going to be buying when you promote your service.
John Paul Strong
John Paul Strong combines his two decades of automotive marketing experience with a team of more than 140 professionals as owner and CEO of Strong Automotive.
Stay in the fast lane
Get industry updates delivered
to your inbox