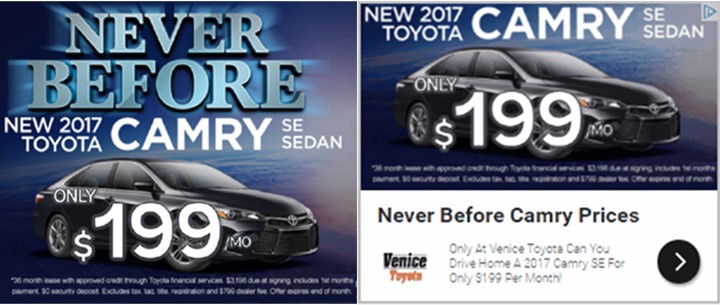 In typical Google fashion, they love to surprise everyone in digital marketing with updates and algorithm changes that send shockwaves throughout the digital world. Most recently, they've snuck in under the radar a new mode for how your display ads can be shown. It's called a responsive ad.
Responsive ads are attractive alternatives to standard text/display ads. They offer the ability to reformat your images and text within the ad to fit different sized ad formats and placements. In Google's words, "We built responsive ads for display to help your ads adapt to the increasingly diverse mix of content types and screen sizes." Responsive ads are hugely focused on mobile, where a growing audience views your ads on sites and apps across the web. Responsive ads have the ability to stretch and conform to the available advertising space on those sites/apps while simultaneously offering nearly twice the text space of old PPC text ads. Wow!
Above is a quick comparison. Standard/Static Display Ad is on the left while the new intuitive, engaging Responsive Ad is on the right)
In a way, responsive ads are something that many large national and global agencies have been able to offer to high-dollar clients already…but at a cost. To do this, they have required a team of skilled HTML5 coders and graphics experts, and many costly hours of labor to build those ads. For the most part, this is something only the national advertisers and tier one companies could afford.
Google selected Strong Automotive Merchandising as its Premiere Partner to launch ads for a special test market of tier three retail dealers. We have been testing this new feature for a current client, and the performance metrics over the past 30 days are stunning! In literally every way, performance has skyrocketed for this particular client in Southern Florida.
Average cost per click (CPC) dropped from $0.98 to a super low $0.13.
Clicks generated by the responsive ads were nearly 2.8 times as many as standard display ads (2,910 clicks for standard display vs. 8,099 clicks for the new responsive ads).
Cost-per-thousand impressions (CPM) dropped significantly, from $1.68 for standard display ads to $0.99 for the new responsive ads.
Average click-through rate (CTR) jumped from roughly 0.20% up to 0.76%.
Now the question is this… "How do we proceed?"
Current Strong Automotive Merchandising dealers will begin to be rolled into this new format as long as there is a budget set aside for display targeting. We are not going to throw the standard style of ads we have been running for years completely out the window, but will be working to migrate an appropriate percentage of each store's budget to the responsive ads and to find an optimum balance across the board for everyone.
If you are one of our current dealers and want to bring this up prior to our next meeting, please contact your account team here, and we can set up a meeting prior to.
And if you are not one of our current dealers, please call or email us, and we are happy to give you more information on this subject.
John Paul Strong
John Paul Strong combines his two decades of automotive marketing experience with a team of more than 140 professionals as owner and CEO of Strong Automotive Merchandising.
Stay in the fast lane
Get industry updates delivered
to your inbox