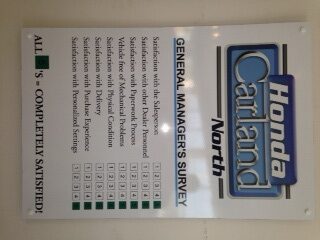 See the attached poster that a general manager of a Honda dealership posted to inform his customers that he expected them to be completely satisfied with their new car sales experience.
In no way does he interfere with the "factory survey". He is merely making sure that each person who buys a new car from his dealership is completely satisfied with their experience and would mark a "5" if they were asked about it.
There is no coincidence that his manufacturer also uses a "5" to make sure all customers are completely satisfied with his service. Thus his CSI scores have increased since posting these boards in the showroom and customer waiting area outside his F&I offices.
John Paul Strong
John Paul Strong combines his two decades of automotive marketing experience with a team of more than 140 professionals as owner and CEO of Strong Automotive.
Stay in the fast lane
Get industry updates delivered
to your inbox