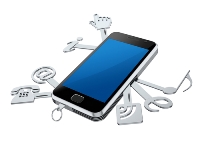 Landing pages are just as crucial for mobile. There is more impulse buying on mobile.
Mobile Optimization Tips
Create mobile-preferred ads
Set mobile bid adjustments and bid higher for location targeting
"Call us" performs better on mobile, while "contact us" does better on desktop
"Shop now" on desktop vs. "Find store" on mobile
Display URL with m. or /mobile lets people know you have a mobile site
Use call extensions and count them as conversions
Get specific with site links for mobile
To see every post in the series, click the tag below.
John Paul Strong
John Paul Strong combines his two decades of automotive marketing experience with a team of more than 140 professionals as owner and CEO of Strong Automotive Merchandising.
Stay in the fast lane
Get industry updates delivered
to your inbox