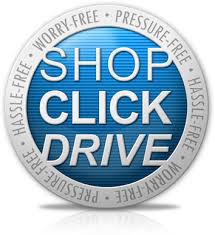 General Motors has been experimenting this year with Shop-Click-Drive (SCD) – an Internet-based app that lets consumers research vehicles, build and price what they want – and order it online. It is something like the Tesla sales process, but with an important difference: the online buyer ends up at a local dealer to sign the deal and take delivery. The test has been successful enough that GM is expanding it from the initial 100 dealers in four states (Arizona, Michigan, Minnesota and Wisconsin) to make it available to all 4,300 dealers nationwide, although they aren't required to participate.
Unlike Tesla's direct sales system, the GM online SCD operation is dealer-focused. While it may look to the consumer that they are dealing directly with GM, they're really interacting with a dealer for important portions of the transaction, like pricing, financing, delivery and trade-in. The system is designed to attract tech-savvy, young car buyers who prefer to do business online and don't have any interest in showroom car shopping (unless they want a test-drive).
According to a recent Wall Street Journal article, only about 900 cars have been sold in the initial test. But then, many consumers were never aware of it and, if they were, had to live in the right area to be able to use it. Soon online shopping for GM vehicles will be available nationwide, so look for others to follow.
While some dealers may still be hesitant to forego having a salesperson introduce sheet-metal to potential buyers, many realize that online shopping is here to stay. Just as Target, Walmart and other brick-and-mortar retailers have grown substantial Internet-based sales businesses, car dealers won't want to miss out on potential sales. No doubt most of them have already been posting used car inventory on eBay and elsewhere.
Chevrolet announced the launch of a full-blown marketing campaign for the re-engineered 2014 Malibu. Automotive News calls it "a bid to jump-start sales after the previous model year's major redesign failed to resonate with shoppers." Chevy U.S. marketing chief Chris Perry told reporters in Detroit that the campaign is being treated as an "all-new launch." The first new spots from McCann Erickson broke this week.
-As reported by Wall Street Journal
John Paul Strong
John Paul Strong combines his two decades of automotive marketing experience with a team of more than 140 professionals as owner and CEO of Strong Automotive Merchandising.
Stay in the fast lane
Get industry updates delivered
to your inbox