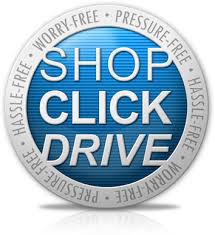 General Motors has confirmed what Spots n Dots readers learned on October 10: The auto giant is expanding its online Shop-Click-Drive (SCD) program to all Chevrolet, Buick, GMC and Cadillac dealers in the United States. As previously reported, a pilot program had involved dealers in four states – and then it was expanded to eight. Now GM has made it available as an online tool to all of its approximately 4,300 U.S. dealers.
Consumers do not, however, buy cars and trucks directly from GM. Rather, the online process is through their local dealer. The SCD website feeds customers to the dealers and every GM dealer has the opportunity to feature the tool on its website. SCD enables consumers to choose a specific vehicle, get estimated pricing, review available incentives, learn about and choose financing and insurance products, get information about their trade-in and apply for financing, all online. The application is available 24 hours a day, seven days a week.
In theory a would-be buyer can arrange everything online and just show up at the dealer to take delivery. In practice, dealers in the pilot found that most customers began the process online, but then made a dealer visit for a test drive or to deal face-to-face on such things as financing options.
One of the original test states was Michigan, where DeNooyer Chevrolet in Kalamazoo participated in the pilot, getting a thumbs-up from general manager Todd DeNooyer in the SND press release from GM. "Shop-Click-Drive is a cutting-edge digital service that no other automaker has today," he said.
As our original story noted, that is likely to change quickly. With GM now facilitating online car sales by its U.S. dealers, other carmakers are likely to follow suit as quickly as they can. No doubt they've been watching the GM test and already have people working on how to put their own program online.
John Paul Strong
John Paul Strong combines his two decades of automotive marketing experience with a team of more than 140 professionals as owner and CEO of Strong Automotive Merchandising.
Stay in the fast lane
Get industry updates delivered
to your inbox