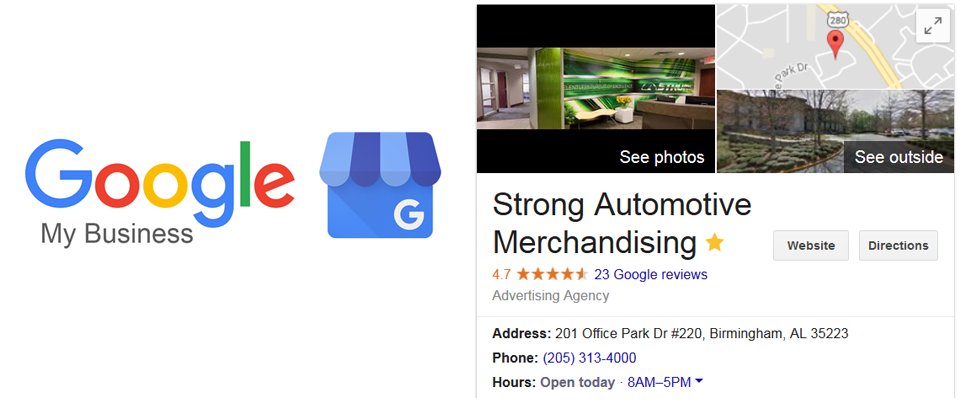 When it comes to online searches, advertising, and video, Google is the most dominant player. But did you know they're making themselves the preeminent force for online listings? Google My Business is the key marketing component you need for getting listed on searches. Think of it as the digital version of the classic Yellow Pages, but with more options to drive traffic directly to your dealership. Just like the Yellow Pages, Google My Business offers all your dealership's identification, services, location, and contact information. Here's five reasons why Google My Business is the most important listing for your dealership.
1. Monitor Your Ratings
Google My Business will monitor your dealership's star rating and alert you if there's a "less than stellar" remark. Not only will this help with your public appeal, but it also gives you an opportunity to reply to the review and address the concern. Also, reviews are now a two-way conversation between you and your customers. Positive interaction with customers enhance loyalty and strengthens your dealership's brand.
2. It's Free! Yes, We Said Free!
Unlike other listing services like DealerRater, Edmunds, and Cars.com, Google My Business is FREE to manage and update. Maybe I should have put this as my number one reason. Managing your account for free makes it easy to post pictures of top vehicles, monthly deal graphics, or your friendly sales staff while leveraging your virtual presence.
3. Automatically Update Google Maps
Google My Business is linked to Google Maps. Whenever a customer searches for your dealership on Google Maps, your Google My Business listing will appear. Having your listing connected to Google Maps makes your first impression with a customer a positive and informative means of driving traffic to your dealership.
4. Upgrade Your Adwords
It's a huge way for driving more traffic to your dealership. Not only is Google My Business linked to Google Maps, but it's synced with your Google Adwords campaign. Connecting the two gives an upgrade to your paid search ads. When synced with Google My Business, your search ads provide a link to your address so customers can easily find you. Also, your ads show on Google Maps searches when synced with Google My Business. If they're not synced, your ads won't show up on Google Maps.


5. Outshine the Competition
If you don't utilize Google My Business, your competition will. In the opinion of our team at Strong Automotive, Google My Business is the best listing tool, and anyone who is invested in growing their online presence will see the value of utilizing Google's innovative approach to online listing. If you're serious about moving your dealership's marketing campaign into the future, Google My Business is the single most important listing you have—online or offline.
We at Strong Automotive are big on Google. Why? Because they are blazing trails with online marketing and advancing the way businesses reach customers. Gaining access to your dealership's account can be somewhat frustrating. The digital team at Strong Automotive would be more than happy to help you reach more customers with Google My Business.
John Paul Strong
John Paul Strong combines his two decades of automotive marketing experience with a team of more than 140 professionals as owner and CEO of Strong Automotive Merchandising.
Stay in the fast lane
Get industry updates delivered
to your inbox