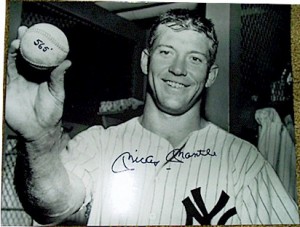 As I sat in my hotel room on the 47th anniversary of Mickey Mantle hitting his 500th home run (May 14, 1967) to write this blog, my thoughts ranged from baseball to full moons to technology to transit.
BASEBALL
Only by chance did I see Mickey Mantle's picture with the caption "500th Homerun, May 14th" as I walked through a New York City restaurant. It was pretty cool considering I was in the exact city where Mantle had an amazing 18 year career with the Yankees taking them to 12 World Series of which they won seven.
FULL MOONS
While talking to a client, he mentioned that they were having a great week of car sales but said the best is yet to come because that night happened to be a full moon. I am completely convinced that this belief is true: People act crazier and make more rash decisions (like buying a car) during a full moon. It's always great to have a full moon when it coincides with a pay period.
TECHNOLOGY
It's simply mind boggling of how far technology has advanced and the rate that it continues to grow every day. I am able to communicate instantly with the same number of people that it used to take me an entire week to get in touch with. All because of technology like Skype, texting, instant messaging and Facebook.
TRANSIT
While riding a subway to get from New York to New Jersey I initially thought how cool it was to be able to ride a subway to a meeting. Then after I spilled my coffee on my jacket and had my teeth rattled for about 10 minutes due to bad tracks I thought to myself, "This subway sucks – wish I had a car."
GEN Y/MILLENNIALS
Millennials are not going to be traditional buyers. When Generation Y wants something, they want it instantly. For the retail automotive business this is a slam dunk as long as you treat them the way they want to be treated and provide them with all the information they want to know. It's important to them to know how fast and easy something is regardless of the price. They also need a sense of satisfaction in knowing they got exactly what they wanted the way they wanted it.
John Paul Strong
John Paul Strong combines his two decades of automotive marketing experience with a team of more than 140 professionals as owner and CEO of Strong Automotive Merchandising.
Stay in the fast lane
Get industry updates delivered
to your inbox