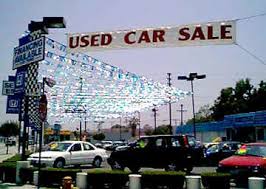 iSeeCars.com compared the cost of used vehicles purchased from franchised dealers versus used car lots. Their findings were interesting. They analyzed over 20 million used cars for sale in the past year at dealerships and independent lots. The difference was minimal with franchised dealers being 0.26 percent better. So the answer to a recurring question comes with substantial research.
Today, this weekend and going forward, make sure that your salespeople have this information as a conversation starter. The most important point is to make sure those potential customers know what you offer versus the competition at the corner lot. Your dealership provides more for your buyers far beyond what most independents can offer when looking at the total best used car buy. Some major selling points range from financing sources to vehicle service performed by trained professionals to assurance that you will be there down the road.
Your used car shoppers are given much more than a sale price within a quarter of a percent. They get "the whole nine yards" of your operation and that needs to be sold as a peace-of-mind ownership – priceless!
John Paul Strong
John Paul Strong combines his two decades of automotive marketing experience with a team of more than 140 professionals as owner and CEO of Strong Automotive Merchandising.
Stay in the fast lane
Get industry updates delivered
to your inbox