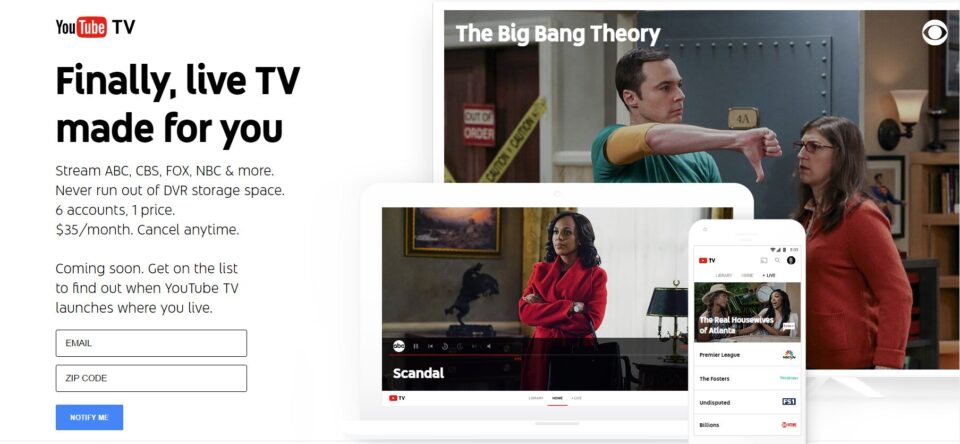 YouTube is taking the next steps to being a complete content provider with the announcement of a live TV service.
Which networks are available with YouTube TV?
This new service provides access to a multitude of networks and stations. The team at YouTube has partnered with all of the broadcast networks, (ABC, NBC, CBS and Fox) and will even provide live content. In addition, you can access content from CW, USA, FX, FXX, Syfy, FreeForm, MSNBC, CNBC, Fox News, Fox Business, Disney, Disney Jr., NatGeo, Sprout, E!, and many others.
Are you a sports team fan? The service includes national coverage from ESPN, ESPN2, ESPN3, ESPNU, FoxSports, FS1, FS2 and NBC Sports. You can also get access to regional sports from Fox, Comcast, SEC Network, and Big Ten networks.
**Add Showtime and Fox Soccer for an additional fee.
Didn't see your favorite channel or programming…Don't worry! YouTube will be continually negotiating with other content providers to improve the access.
How is this different from YouTube Red?
YouTube Red is a paid subscription that offers an ad free YouTube viewing experience. While YouTube TV operates as a television service, YTR targets customers who enjoy watching videos featured on the actual YouTube platform.
YouTube TV is more like a traditional TV service that serves ads with the programming. At just $35 per month, buyers have access to six accounts, and there is no long-term contract required. This new service is expected to send even more people away from the traditional cable subscription model. In addition, YouTube TV includes YouTube Red's 28 original series. This could make it more appealing to a younger demographic.
Is it just about price?
Not according to YouTube Chief Product Officer, Neal Mohan. "We feel we're in a great position to reinvent the way TV works. No other company in the world has more experience serving high-quality video over the internet, high-def streaming, apps that don't crash, and seamless integration with mobile and web."
So, when can you start watching?
Unfortunately, the service will only launch in markets where it can offer full, live local broadcast feeds, like L.A., New York and Philadelphia. However, if you live in any of these areas, be on the lookout for the service's official release date. Sign up to be notified of the official launch, here.
What Features Make YouTube TV Different?
YouTube TV will challenge traditional cable TV players by offering a DVR that never runs out of space, and that's capable of simultaneous recordings.
Plus each account within a YouTube TV subscription will have its own personal DVR, as well as its own tailored recommendations, shown when the app is in portrait mode.
The app includes a visual TV guide that can quickly scan what you want to watch by flicking through channels with your thumb.
As with Chromecast you can "cast" YouTube TV's content to your television as well.
Maybe the most powerful feature (especially for those of us that know how difficult it is to use current cable search functions) is competent search functionality. This includes the ability to search by themes, i.e. "espionage". While being utilized, the search will return content where "espionage" is integrated into the plot.
You can also command YouTube TV by voice, thanks to integration with Google's connected speaker, Google Home.
What is the Future of Television?
YouTube TV brings even more attention to a competitive and crowded streaming TV market.
First, you have on-demand players, Netflix, Amazon, Hulu, and HBO NOW. Then, there are other live TV services, including Dish's Sling TV, Sony's PlayStation Vue, AT&T's DirecTV Now, and soon, Hulu – which is launching a live TV service of its own.
YouTube, however, already has a built in audience. This week, the company announced that people watch 1 billion hours of YouTube per day.
Will this be the point we look back on and say, "That's when YouTube changed the world." Or will this just be another option in a saturated market?
John Paul Strong
John Paul Strong combines his two decades of automotive marketing experience with a team of more than 140 professionals as owner and CEO of Strong Automotive Merchandising.
Stay in the fast lane
Get industry updates delivered
to your inbox