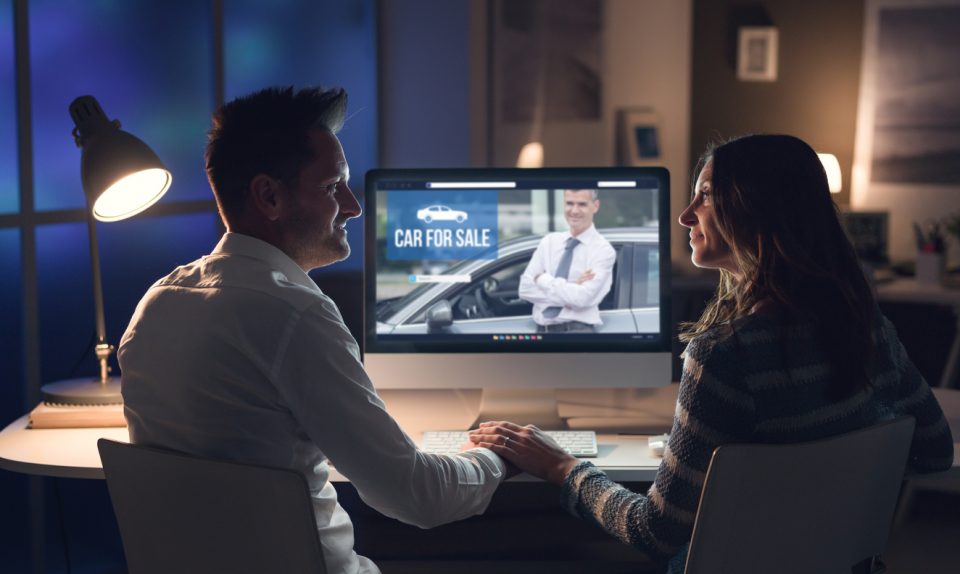 SKIM IT
– More customers want to buy online, but not enough to threaten in-store sales.

– Customers still want to sign the final documents in-store.

– Sell to customers how they want to buy. Let them do as much as possible online.

---
[spacer height="20px"]
The Amazon Age
There's not much you can't do online these days. Meet your spouse, go to college, order a pair of shoes that arrives the same day. It's all becoming par for the course.
But what about car buying? Are shoppers becoming less interested in brick-and-mortar dealerships here in the Amazon Age?
Luckily for dealership personnel, the answer is no. At least, not completely.
What Customers Think About Online Car-Buying
Attitudes toward online car-buying are changing fast. In 2016, only 33 percent of people in one Google survey indicated wanting to purchase a car entirely online.
Then, in 2017, a study by Roots & Associates and CDK found that 42 percent of shoppers were "likely" or "very likely" to purchase a car online in the future.
But you can't take these surveys at face value. To add to the mix, there is the Cox Automotive report that found 89 percent of consumers still want to sign the final documents at the dealership. There's also the 80 percent that say they would never buy without a test drive.
If it seems like these figures are conflicting, it goes to show that customers aren't yet ready to give up the personal dealership experience. Not entirely, at least. They're hesitant to trade the real showroom for the virtual one with the same gusto that they traded shopping malls for online catalogs.
So, how can you cater to customers' preference for online shopping while still giving them the dealership service they crave?
How to Merge Online and In-Person Sales
Depending on your state, it may be impossible to sell a car entirely online. Many places still have wet signature laws that require documents to be signed in person.
However, one of the worst things you can do is treat your online shopping process as a way to simply generate leads. It's important to respect customers who want to complete most of the buying process online. Provide them with quotes, correspond quickly, and let your internet sales professionals handle the sale online as much as possible.
Customers looking to buy online will be turned off by dealerships that refuse to negotiate price online and push an in-person visit too hard. Savvy shoppers will see through an attempt to lure them into the dealership. By working with customers the way they want to buy, you will increase your chances of making a sale.
It's perfectly fine to offer to schedule a test drive and explain its benefits, but don't pressure a customer into coming in if they don't want to. Once you get to the end of the sale, you can explain why the final documents must be signed in person.
Customers will respect the fact that you respect their buying preference.
Need More Digital Traffic?
One of the best ways to attract online vehicle shoppers is with paid social media advertising. It's an inexpensive way to hyper-target the audiences that are most likely to buy.
Check out what you can do with paid social ads today.
[siteorigin_widget class="SiteOrigin_Widget_Button_Widget"][/siteorigin_widget]
John Paul Strong
John Paul Strong combines his two decades of automotive marketing experience with a team of more than 140 professionals as owner and CEO of Strong Automotive.
Stay in the fast lane
Get industry updates delivered
to your inbox