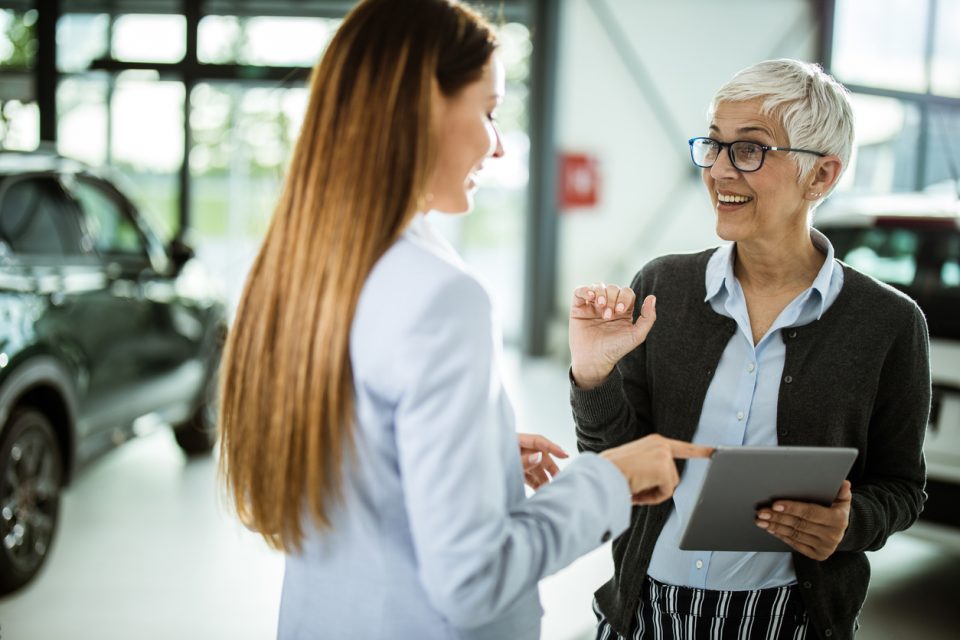 Most dealers know that the service department is essential to feeding dealership revenue. After all, 49 percent of the average dealer's gross profit comes from service (Hurley, 2018). Given this connection, it is beneficial to get a deeper understanding of the connection between service and sales.
We reviewed a 2008 research study that sheds new light on how a customer's dealership experience affects their chances of using the dealer's service center. It also reveals insights into service department behavior and gender, explaining why women behave differently than men as automotive customers.
The study hypothesizes that a shopper's previous experience and the feelings they got from interactions with staff will affect dealership profitability. This is important to understand for two reasons. First, J.D. Power and Associates found that over 1/4 people who leave a dealership without buying do so because they didn't like how the sales staff handled their business. Second, more than 1/2 shoppers who leave the dealership unhappy from their sales experience will not buy from another dealer selling the same brand (Automotive News, 2003).
We can see already that a negative sales experience hurts not only the dealership, but the brand as a whole.
Gender Affects What Customers Value
Women influence 80 percent of automobile purchases, according to Ford Motor Company. Also, we know that women represent between 65 and 80 percent of automotive service customers, according to the National Institute for Automotive Service Excellence. This means the female customer experience is directly related to your service center revenue.
The biggest difference between women and men when it comes to car-buying lies in what they value. Women, on average, report that vehicle-buying is intimidating and unpleasant (Gutner, 2000). They do not enjoy haggling with salespeople. Their values are placed on the honesty, sincerity, politeness, and helpfulness of sales personnel (Hanna and Wozniak, 2001).
Another important finding is that women generally seek external information. Men, on the other hand, tend to rely on their own expertise. This finding underscores the importance of a well-educated staff and a content-rich website that can provide women with information before they purchase or come in for service.
Lastly, a 2001 study found that the quality of service at a dealership is 33 percent more important to women than to men. Along with the values described above, women are looking for a high-quality experience with dealership staff. Whether you can deliver that will affect a female customer's propensity to return.
Converting Buyers to Service Center Patrons
In a study of 215 consumers, researchers sought to understand how a customer's sales experience in the dealership affects their likelihood of becoming a service center patron.
For men, those who have a positive perception of salespeople are more likely to buy at the dealership. This link is even stronger for older men.
For women, those with a positive salesperson experience are more likely to patronize the service department. This link strengthens for older and wealthier women.
Interestingly, the importance of a positive sales interaction is significantly higher for females. While affecting both groups, it is clear that women value the quality of their interpersonal experience more highly than men when it comes to making a service center decision.
Using Gender Insights to Increase Your Profits
So, what can your dealership do with these insights? The first thing to consider is that "perceptions about the dealership" do not significantly affect whether a customer will use the service department (Darley, Luethge, & Thatte, 2008). Rather, it is the salesperson who has the biggest effect.
To act on this, make sure that training, retention, and customer service are being prioritized at your dealership. As we have learned, good branding won't make up for poor salesmanship in the eyes of the customer.
CSI scores are already prioritized at many dealerships, but these findings show that it is truly essential to provide a positive customer experience. This is particularly important for women who may come in with the fear of being slighted. Make sure your staff takes the time to provide ample information and embody the values of honesty, sincerity, and politeness.
Finally, consider the findings that reveal how age impacts service department patronage. Consider service campaigns targeting the older age group. These customers then become candidates for equity mining, helping you take them from the service lane to the showroom.
Did you enjoy this article? If so, please share on Facebook or LinkedIn. Make sure to subscribe for more industry insights.
John Paul Strong
John Paul Strong combines his two decades of automotive marketing experience with a team of more than 140 professionals as owner and CEO of Strong Automotive Merchandising.
Stay in the fast lane
Get industry updates delivered
to your inbox