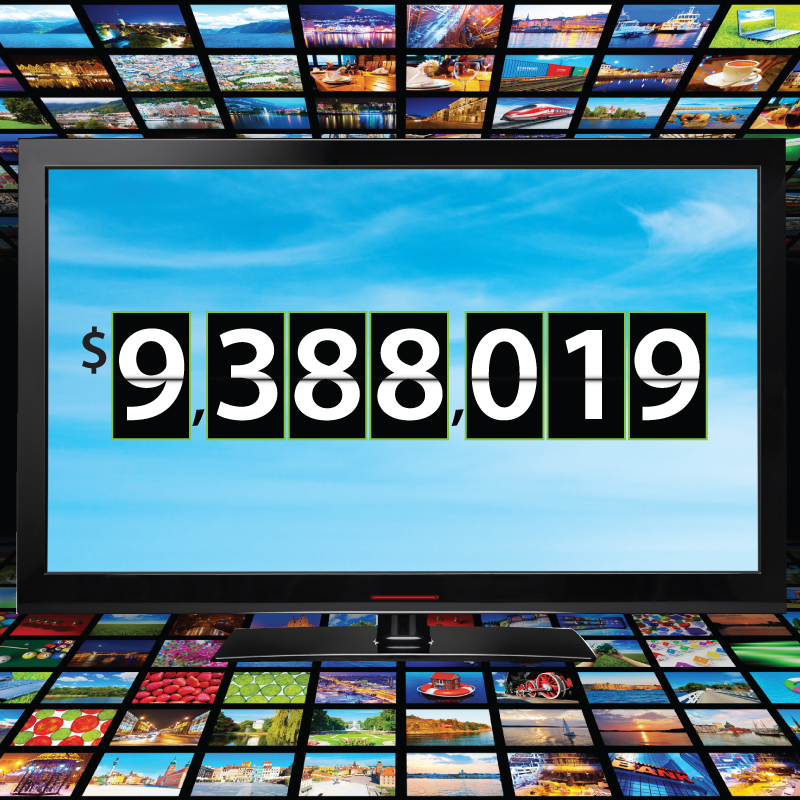 Everyone likes getting a little something for free. Cajuns call it a lagniappe. Chefs call it a baker's dozen. Marketers call it a bonus.
Whatever term you use, the fact remains that we all appreciate an add-on – especially when you're spending no small sum. That's why added value is at the heart of STRONG's media-buying process.
Last year, we negotiated nearly $9.4 million in free advertising for our clients. How did we do it? The answer is Value Buying.
Added Value Required
As a principle, all media buys we negotiate for clients include a minimum percentage of added value right off the bat. For example, if a client has the budget for 100 TV spots and we negotiate 20 percent added value, they're really getting 120 spots' worth of advertising. In many instances, we exceed this number.
We're able to calculate exact added value totals thanks to our affinity for media spreadsheets. In addition to tracking buys and ensuring the right ad runs at the right time, we also keep a close eye on the added value we have negotiated. There are plenty of agencies who tout added value, but you'll be hard-pressed to find one that tracks and enforces it the way STRONG does.
Another thing that's different about our added value is who's watching it. It's par for the course to receive a no-charge spot at 2 a.m., but how effective will that be if everyone is asleep? Our policy requires that all added value be shown during primetime hours – or we don't count it.
Errors Hurt Stations, Help Clients
Mistakes happen, but it's important to avoid them as much as possible. If a dealer's TV spot runs with the wrong copy, that's costing the dealership sales.
As part of Value Buying, STRONG's media team requires a credit along with a makegood three times the original value of the incorrect ad. Doing so guarantees that the client will make up for lost sales. But it also sends a clear message that we are monitoring traffic and media schedules for errors, encouraging stations to keep a close eye on our clients' spots.
The additional exposure certainly helps clients. But our goal is to avoid errors in the first place, not to simply profit from them. By encouraging vigilance, our partnerships with stations are more efficient, meaning higher sales and lower costs for everyone.
Relations with Stations
You may be wondering what stations think about all of these requirements. It's true that media reps are often taken aback when STRONG first enters a market and explains the Value Buying process. However, we see the relationship with stations as a two-way street.
Our media team is honest and upfront from the beginning, describing to stations how we handle added value and makegoods. We believe our practices are fair, and we treat vendors as our allies and friends. Together, we work with media reps to increase their advertising revenue while increasing our clients' ROI.
Value Buying and the Future
The way people view TV is evolving. Along with traditional television, streaming and over-the-top television (OTT) services are steadily gaining viewership. How will these services, such as Hulu and on-demand video, tie into the Value Buying process?
"We envision streaming services as having good potential for added value," said Sheila Grandy, Sr. VP of Advertising Services. "We will have to work with reps to determine how to give our clients the added value we guarantee on these platforms."
Even now, reps and buyers have to get creative. As we enter an election year, no-charge spots are harder to come by. Instead, stations may negotiate longer spots or better placement to still provide the added value STRONG promises its clients.
Listen Up
If Value Buying sounds like a good deal, then you ought to hear what others have to say about it. In the video below, clients share their experience with the STRONG media team.
John Paul Strong
John Paul Strong combines his two decades of automotive marketing experience with a team of more than 140 professionals as owner and CEO of Strong Automotive Merchandising.
Stay in the fast lane
Get industry updates delivered
to your inbox